Back to Knowledge base
Engineering Project Management
5th November 2018 Articles
Essential features of our Engineering Project Management software include:
Mobilise your team of engineers easily and effectively
Maintain stock levels and monitor parts leaving your warehouse
View availability of equipment for hire effortlessly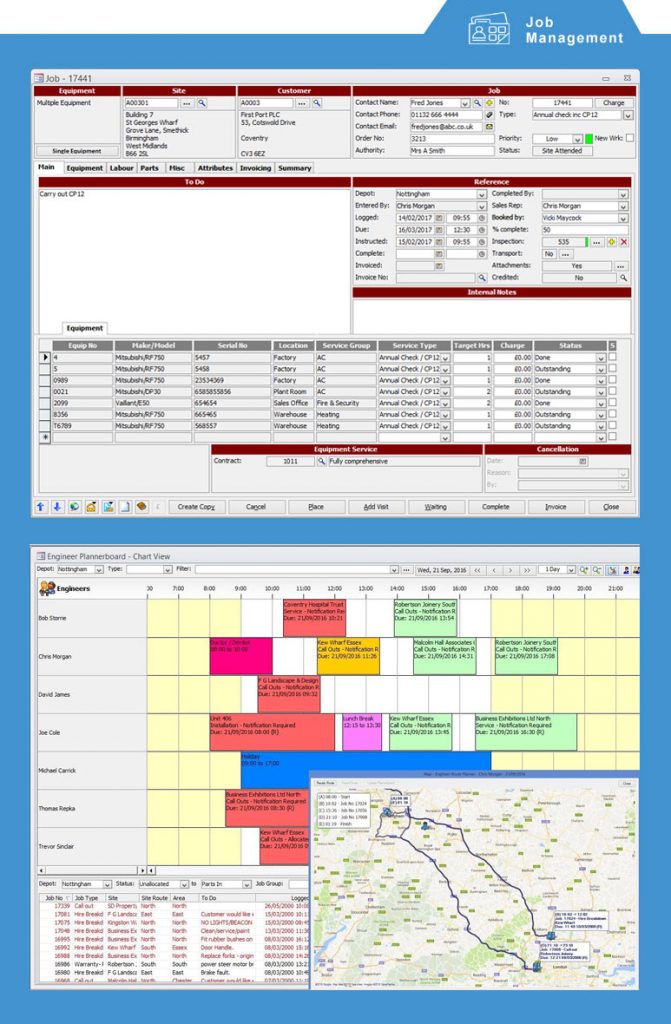 Engineering Project Management Key Benefits
Streamline Tasks
Protean Software's Engineer Management tools allow you to manage contracts and projects. In turn, this allows you to increase efficiency and therefore boost productivity!
In addition, you can access project information anytime, online or offline with ease. View the availability and condition of all parts and equipment out for hire and in stock. It also displays all important information regarding customer history, service scheduling and invoices.

Organize your team of engineers
Schedule and assign jobs, contracts and/or projects to your engineers from our software's planner board.
Track and log the progress of engineers' daily job schedules.
Prioritise and re-allocate your jobs to maximise efficiency.
Utilise our Field Worker App for improving communication between managers and your engineers.
Search stock levels & keep track of all equipment
Stock Level Features make it easy to know when you're running low on certain items.
Replace paperwork with the Protean Software Equipment Register – our engineering project management software allows you to easily track equipment supplied under warranty.
Search for specific pieces of equipment, their availability and their condition.
The diary function lets you view equipment reserved or already on hire.
Protean Software Enables You To Plan Effortlessly To Improve & Maintain Efficiency
Effortlessly create and edit your own resources and checklists.
Reduce manual intervention and save time by automating your processes.
You are able to alert 'on-call' engineers and update them with information for any jobs available to them.
Manage service agreements simply with the click of a button
With Proteans engineering project management software, you are able to reduce the cost, time and difficulty of administration. You will painlessly be able to:
Create your own records and contracts
Define tasks
Define checklists
Calculate expenditure (including labour costs, mileage, travel time, parts and equipment)
Raise invoices.
With our engineering project management software, you can reduce the cost and time spent on administration. You will be able to lighten repetitive workloads and minimise human error by:
Creating your own personalised records and contracts.
Defining tasks and building checklists for each engineering project.
Calculating all expenditures on one system. This includes labour costs, mileage, travel time, spare parts and equipment.
Raising invoices quicker can also improve customer satisfaction.
For more information, you can check out more of our Features & Benefits Here.