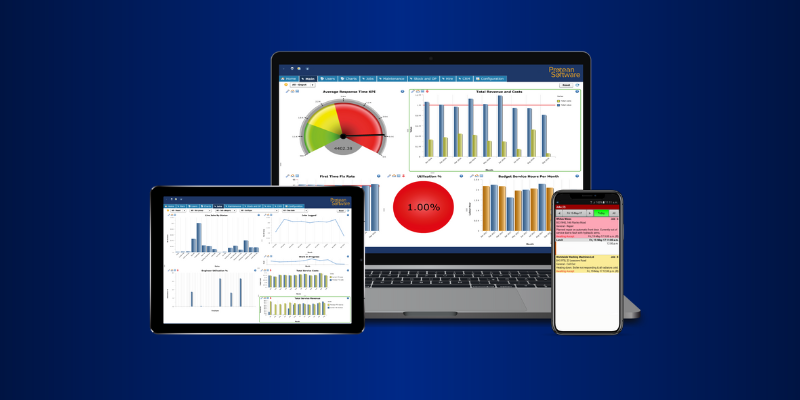 Protean FSM continues to grow and develop which is why we've made some significant improvements to our support offerings to better serve you. We're delighted to share some of the impressive changes we've made and give you a preview of the exciting developments on the way.

---
Implemented improvements
We've been busy improving our services. Firstly, we now offer 24/7 support, so you can reach out to us at any time for assistance. In Q4, our data team and support team have rapidly expanded, enhancing data management and reducing call wait times. These changes are all about making your experience smoother and more efficient.

---
Latest release
Protean Software has maintained business as usual since our acquisition in July, as such, you will find full details of new and updated features in our latest release linked below.
Our latest release of Protean is now available for download!
Protean 7.4 (7.4.5116) adds extended support for Sage 200 and QuickBooks along with new features for the mobile engineers and various general updates too. There are also fixes in place for bugs raised.
Upgrade to the latest release here.

---
Our targets
Our core targets are clear. Firstly, we're committed to ensuring a 90-second response time for your calls, and we aim to achieve this target by the end of the year. Swift and efficient customer service is our priority.
Additionally, we're diligently working on delivering faster data insights. Our focus is to empower you with quicker access to critical data, enabling you to make more informed and timely decisions that drive your business forward.

---
Coming soon
We've got an exciting development in the pipeline! In the first quarter of 2024, we're rolling out website live chat support, adding an accessible and convenient way for you to get assistance. The addition of live chat aims to give you access to further resources and support at your own convenience. Whether you have a quick question or need in-depth guidance, our live chat support will be there to provide you with the help you need, right at your fingertips

---
What's next for Protean FSM
Our dedicated team has continued to work hard at enhancing the Protean experience. After our recent major release, we're excited to reveal that we have a project currently in development, aimed at modernising your Protean experience.

---
We are committed to ensuring that Protean FSM remains a forefront solution for efficient field service management. These changes and forthcoming developments are geared towards elevating your experience and helping you achieve greater success.
For any questions or assistance, don't hesitate to reach out to our support team.