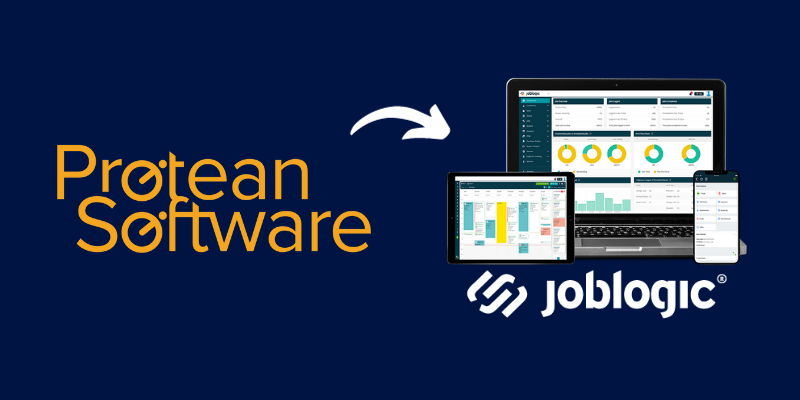 Since the acquisition of Protean Software by Joblogic in July, Protean customers have had the option to migrate to Joblogic software should they wish. We've outlined below any frequently asked questions that you may have about the migration and if it's right for you.
---
Do I need to Migrate?
First things first, let's address the big question on everyone's mind, do you need to migrate to Joblogic? The answer is no, you don't have to. The Protean services are running as usual, and we are continually making service and product improvements to ensure a seamless experience for our customers.
---
How do I migrate to Joblogic?
If you're considering the migration to Joblogic, we've got you covered. We've taken the initiative to ensure a smooth transition for our customers.
We've already started a high-level gap analysis and created a development roadmap. Development work has already commenced to ensure a seamless transition.
For many of our Protean customers, there will be no further development work required on your end. You will be placed in the migration queue, and we will provide you with an estimated migration date.
---
Interested in migrating sooner?
If you're eager to make the move to Joblogic as soon as possible, you have the option to expedite the process. Just let your Customer Account Manager (CAM) know, and we'll prioritise your migration. This may involve a more detailed gap analysis to ensure a smooth transition tailored to your specific needs.
---
What does a migration look like?
A migration may sound daunting, but rest assured, our teams are well-prepared to make this transition as smooth as possible. Here's what you can expect:
Data transfer: Our teams will work behind the scenes to move your data from the Protean system to the Joblogic system. Your valuable information will be securely and efficiently transferred, ensuring you lose no critical data during the migration.
Expert training: We understand that adapting to new software can be a learning curve. That's why our expert trainers are constantly upskilling themselves to provide you with the best onboarding and training experience. We want you to feel confident using Joblogic to enhance your operations.
While the migration to Joblogic is not mandatory, it offers an opportunity to stay ahead in a rapidly evolving business landscape. We're here to support you every step of the way, whether you decide to migrate or not. Your business success remains our top priority, and we are committed to providing you with the best service possible.
---
If you have any questions, or concerns, or are ready to take the plunge and migrate to Joblogic, please reach out to your Customer Account Manager. We're excited about this new chapter and look forward to helping your business thrive in the world of Joblogic!