Our Latest Tech Offerings at your Disposal 
23rd October 2023 Protean General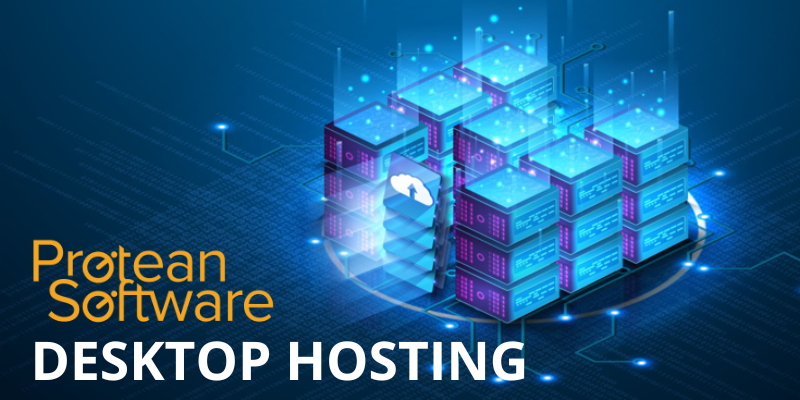 At the recent Protean Customer Day, we introduced our mature state-of-the-art Microsoft desktop hosting solution, which offers you a fully managed Protean FSM experience. Offering a variety of key features including, nightly backups, robust security, a business continuity plan, and more, this solution would be a valuable addition to your business.
We have outlined the key benefits in more detail below.
---
Nightly backups and 30-day storage
In the face of disaster, we've got you covered. Our nightly backups ensure your data is safe and sound. With a 30-day storage window, you can rest assured that your historical data is just a few clicks away. Cold storage also guarantees that your backups remain secure, accessible only when absolutely necessary.
---
Robust security
Your data is handled with the utmost care and is secured in compliance with GDPR regulations. Our firewall rules act as a fortress, keeping malicious attackers at bay by blocking unauthorised access to critical ports.
---
Scalability on your terms
We adapt to your growth. Our solution offers both vertical and horizontal scaling options. Horizontal scaling involves the addition of virtualisation hosts, enhancing the overall power of the cluster. Whilst vertical scaling optimises existing servers, making them more robust as your needs evolve.
---

Patch management and Windows updates
Say goodbye to security vulnerabilities. We keep all systems up-to-date with prompt patch management. This ensures that your data and systems remain secure while benefiting from the latest features.
---

Business continuity plan (BCP)
Unforeseen events can disrupt operations, but not with our BCP in place. Regardless of physical infrastructure mishaps on your end or ours, our system seamlessly fails over to other servers, ensuring business continuity. The BCP acts as a safety net, ensuring uninterrupted access to Joblogic systems, no matter what.
In today's fast-paced business landscape, having a reliable and feature-rich desktop hosting solution is essential. Our Microsoft desktop hosting solution, packed with state-of-the-art features, takes the hassle out of managing your FSM experience. From robust backups to high-end security and seamless scaling, we have you covered. With no need for any special licenses or software. We'll take care of everything, from seamless migration to efficient scaling and rock-solid backups.
---
If you want any more information on the technology available to you, contact your Customer Account Manager.