Key Features of Service Management systems
6th September 2019 Protean General
A service management system is built to improve the efficiency of field engineers as well as help them to do their jobs more effectively. This solution also helps management make informed decisions regarding job allocation and engineer management.
Improved efficiency
Automate the creation of certificates, records, quotes, and invoices, giving your engineers more time to focus on the job(s) at hand. In addition, you can effectively manage parts and equipment with reduced risk.
Essentially, service management systems act as an all-in-one resource for efficient fieldwork.
It can guide your engineers to their locations using Google Maps, which creates the fastest and most efficient route to the job. Indeed, the Protean Mobile App helps them save time on travel, reducing fuel consumption and drive time.
Full visibility
With Mobile Engineer Applications, service management systems give you full visibility of your field service teams. This ensures jobs are correctly allocated for maximum efficiency, which reduces downtime and can boost productivity. Moreover, rescheduling jobs between engineers is fast and intuitive, giving full access to task and equipment updates for those who need them. This means you'll always know which parts to allocate.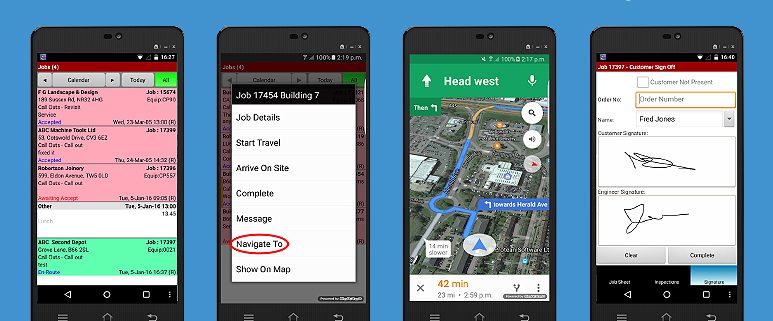 No downtime
Keep on top of important things such as:
Customers on credit hold or over credit limits
Maintenance schedules
Equipment under warranty or tools that have been used in a high number of recent jobs
Customers flagged as 'order number required', preventing either the allocation of engineers or the raising of invoices until an order is received
Control your sales process
With our service management system, you can fully monitor your sales process anytime, anywhere. You get complete visibility when moving prospects through the buying cycle, then track how and when you are converting prospects to customer accounts.

As a result, you're able to run your business more efficiently and with a greater customer focus. It also becomes easier to identify new selling opportunities, as well as to maintain or improve prospects and customer relationships.
Track parts
Track your parts via the Equipment Register within the service management software. Using this and our Stock Level Management Software, you're able to identify all of your key data. This includes information on available parts, and their condition, as well as alerting when supplies are low or any equipment servicing is due.
For more information on how service management software can be beneficial to your business, you can Request a Demo Here or Contact Us to learn more.