Key performance indicators (KPIs) are extremely important to understanding the performance of your fleet management. To gain valuable insights and make improvements to your fleet management software, you need to understand which KPIs to monitor.
Fleet management software is becoming a pivotal role to help fleet managers measure KPIs and manage their fleet effectively. This software provides all the benefits of a vehicle tracking system whilst also providing valuable insights into fleet and driver performance.
What is a Key Performance Indicator?
A key performance indicator is a measurable target or action that can demonstrate whether or not businesses are achieving their key objectives. Key performance indicators can be used at multiple levels throughout an organisation. High-level KPIs will often focus on the overall business vision whereas low-level KPIs can focus more on departments, such as sales or marketing.
Fleet Management Software KPIs to Monitor
Safety
Driver safety is an important consideration for fleet managers as they have a duty of care for employees. It's also important that drivers are safe when representing your business. Driving in an unsafe manner, and causing collisions, can damage your reputation as a business.
Fleet management software provides valuable information such as speeding violations, harsh braking and tailgating. Using this information, fleet managers can debrief drivers and discuss performance, whilst looking at ways to improve driver safety.
Fleet management software can also be used to create 'driver safety scorecards. This provides incentives for drivers to be the safest and most improved drivers.
Fuel Efficiency
In recent years, businesses have started to look at becoming more environmentally friendly, with fleet management being one area to look at. Fuel is one of the top expenses of a fleet-dependant company and improving this provides mammoth savings.
Important metrics such as miles per gallon and unauthorised mileage are extremely valuable metrics to monitor. The information gained from these metrics can be used to improve your fuel efficiency, cut emissions and ultimately reduce your expenditure.
Productivity
Using fleet management is an excellent way to monitor the productivity of your fleet. This KPI can be measured using many different metrics including vehicle activity, average job completion time and overdue jobs. Monitoring these metrics will make it easier for fleet managers to identify ways to improve productivity within your organisation, also saving you money.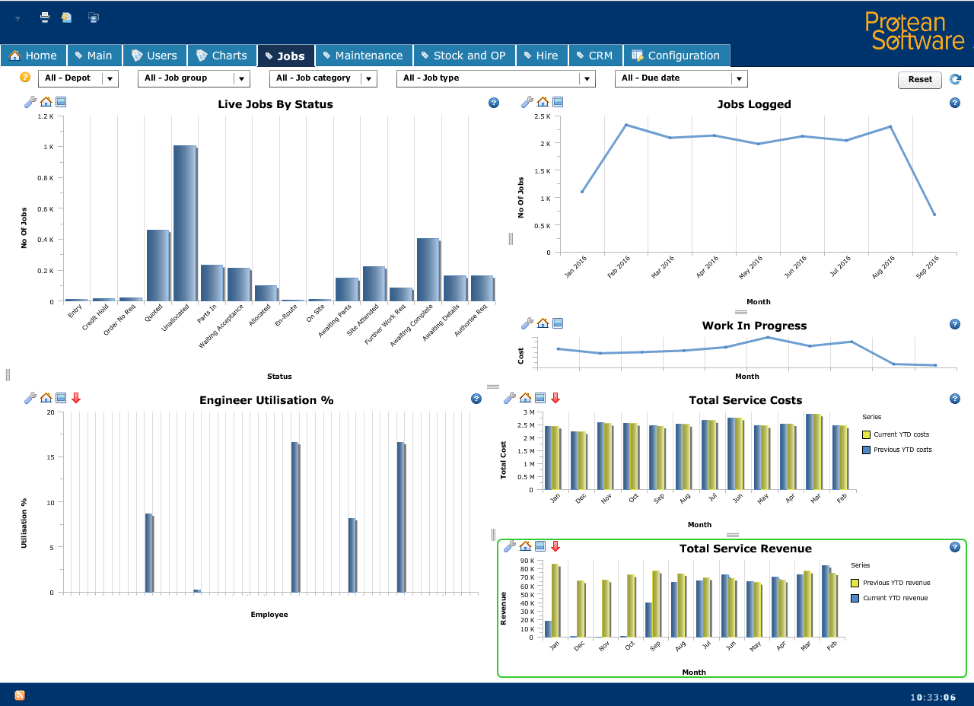 Protean Fleet Management
Our fleet management software enables you to easily maximise your fleet productivity. Create finely tuned work schedules for employees and track their progress throughout the day, re-allocating jobs where necessary.
Contact us today to find out more about our software packages or to discuss upgrading your system. Alternatively, you can email enquiries@proteansoftware.co.uk or call 02476 710 300.